With new developments in technology and more options becoming available to association event managers, audiovisual (AV) is becoming an increasingly complex piece of the conference and special event planning process. However daunting it may appear, it is important to take the time to understand the various components that make up an AV quote and ensure that you are making the best use of your association's budgeted dollars. There are common categories that show up in most AV quotes – in this article we will explore some typical areas where there may be room to cut costs.
Categories Found in AV Quotes for Association Conferences and Meetings
AUDIO: All items related to sound will be listed under audio. This includes amps and speakers.
Important Terms*:
House Sound: ceiling-mounted speakers that are generally good for small audiences and short announcements from the podium.
Sound Reinforcement: a system independent from the house sound, consisting of speakers, amplifiers, mixer, and perhaps an equalizer. This is necessary when there are multiple wireless microphones or music with videos, computer audio, all of which require more dynamic sound.
Things to consider: size of venue, outside noise, event-specific requirements (i.e. live entertainment, videos, etc.)
Example: You are managing a conference and there is a live band performing after dinner. The audio that has been reserved for the speakers at the conference will not be sufficient. The band will need additional speakers, microphones, etc. You will have to determine whether or not the equipment will be provided by the band themselves and what the venue will have to do to accommodate their equipment or whether the equipment will be provided by the AV company directly. You will then want to ensure that the band can be heard clearly from all areas of the room and is not obstructed by outside noise or sound barricades in the room (i.e. a large pillar).
VISUAL: All items related to video, including cameras and projectors will be listed here.
Important Terms*:
Aspect Ratio: shape of a screen, as in width:height (e.g. 16:9).
Lumens: indicate the brightness of the projector. The larger the screen, the brighter the projector you need. The more light pollution, the brighter the projector you need.
Throw Distance: the distance between the front lens of the projector and the screen.
Things to consider: room layout, visibility, program, video brightness.
Example: You are managing a lunchtime awards presentation in a room where there is a lot of natural light. A video of the award recipient is to be played on the main screen. You will not need a projector with a high number of Lumens as the light coming through the windows will brighten the room and a darker video will be easier to see.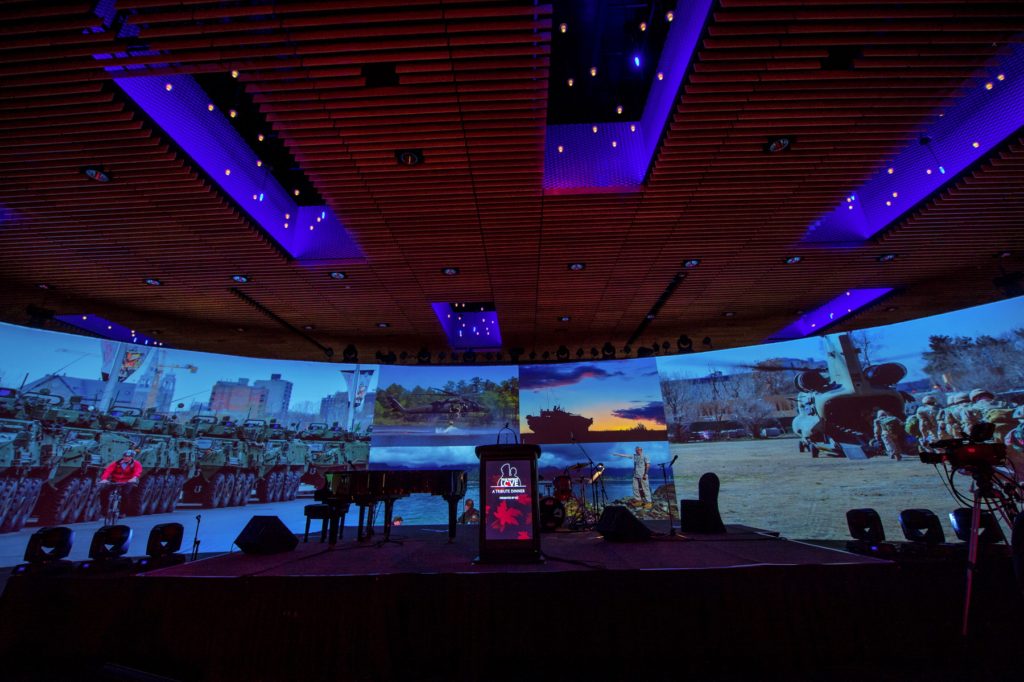 LIGHTING: This Section includes the lights that will be used as well as how they are powered and set up.
Important Terms*:
Spot Fixtures: focused lighting units, which may include gobos. Some may also have shutters, known as Lekolites or Lekos.
Wash Fixtures: lighting units producing soft edges, which allow for quick and easy focus, sometimes called parabolic aluminized reflector lamps (PARs).
Things to consider: natural light or lack thereof, lighting changes for specific portions of the program, coloured lighting to match the overall theme.
Example: You are managing a banquet dinner in the main plenary room. You will likely want a different feel from the main plenary sessions so you may include some coloured wash fixtures that match the association's colours.
Labour: This section outlines the costs to be paid to the crew responsible for operating each AV component requirement for the conference or meeting.
Things to consider: fixed labour costs, in-house AV versus contracted.
MISCELLANEOUS: Beyond the sections listed above, there will be miscellaneous costs that are specific to your association event. These may include pipe and drape (the curtaining between booths and meeting areas), patch fees (using an outside AV company), shipping costs, etc.
Reading an AV Quote for Associations Meetings and Events
When reading an AV quote, look at each major category and the items that are listed. Have a clear sense of your budget and the desired look and feel of the association event before diving in. Determine which items listed under each category are required and which items may have more flexibility. If you are unclear on some of the terminology, ask for clarification from the AV provider. The quote itself can be overwhelming so it is important to be thorough in your understanding of what is listed and how it compares to your budget. It is easy to spend too much money on AV and a misunderstanding of items listed in the quote is a sure way to increase costs unnecessarily.
Ways to Save Your Association Money on AV
If you host a number of association events, it may be worthwhile to invest in some smaller AV equipment of your own (i.e. laptops, wireless remotes, projectors). These items could then be used multiple times rather than paying higher rental fees to the AV company. Just be sure to buy professional grade equipment and know the limitation of the equipment that your association owns.
Another easy way to save on AV costs is to try and maintain the room setup throughout the course of the event. Labour costs in the form of "setup and dismantle" will be higher if the AV changes from day-to-day. You can keep costs low but still add variety to the event by making changes to your visuals rather than to the equipment itself. For example, changing the lighting colour is a low expense option that changes the entire look and feel of the space while using the same AV equipment.
AV companies are not out to get as much money out of your association as possible so be upfront about your budget and work together to find ways to stay on track. They are the industry experts and can make suggestions on items that may cost less but still deliver the desired look and feel of the event. Make sure to call or meet with your AV provider to review the quote to ensure that you have a full understanding of what you are renting.
Overall, the best way to stay on budget when it comes to AV for association meetings and events lies in understanding. Take your time to review the quote line by line, ask questions, and work with the AV provider to find a mutually beneficial solution.